Lignosus was founded with one simple mission in mind: "To Help Strengthen Your Respiratory System & Support Healthy Lungs Naturally." We believe that the secret to a long and happy life lies in every breath we take. Therefore, we need to strengthen and protect our respiratory system especially the lungs through our Lignosus organic lung supplement.
Nature gave us health. Nature can sustain it. We are here to help in safeguarding the respiratory system through the 100% organic hidden gem from tropical forest — Lignosus Rhinocerus (Common name: Tiger Milk Mushroom). with 400 years of medicinal history, Tiger Milk Mushroom is hailed as Malaysia's National Treasure. This mushroom is a beneficial health remedy to significantly relieve respiratory symptoms such as sinus, asthma, chronic cough, and cold in United States. With a great combination of Lignosus Organic Tiger Milk Mushroom and Passion fruit, you will absolutely enjoy this melt-in-the-mouth powdered health supplement that is meant to strengthen and improve the lung functions and boost the immune system as well as promote vitality.
Being health-conscious people like you, we understand the healing power of natural herbs as you do. At Lignosus, we are committed to supporting your respiratory health through our natural and safe herbal remedies.
Lignosus is here to safeguard your respiratory health from the gift of Mother Earth — Tiger Milk Mushroom! Organically Pure. Naturally Healing.
How do our products get shipped directly to our customers?
Each order starts from our GMP certified manufacturing plant.
Your order goes through a quality check.
Goes to our fulfillment centre to get packed.
Courier service picks up your order.
You receive your package from us at your doorstep.
You start benefiting from our supplement.
WE HELP TO DETOX AND CLEANSE YOUR LUNGS NATURALLY
We are driven to provide a natural and safe herbal remedy to support your respiratory health. This is made possible only by extensive research and development to bring out the best healing power of Tiger Milk Mushroom.
The Lignosus team spent more than 26 months on research and development to bring quality organic health supplements to you. The Tiger Milk Mushrooms are planted using Lignosus Proprietary Cultivation Technology and certified as pure natural and organic with more than 50% of (1,3)-(1,6)-Beta-D-Glucan which is the key active ingredient of this medicinal fungus. And with organic Tiger Milk Mushroom, we are committed to strengthening your respiratory health, naturally.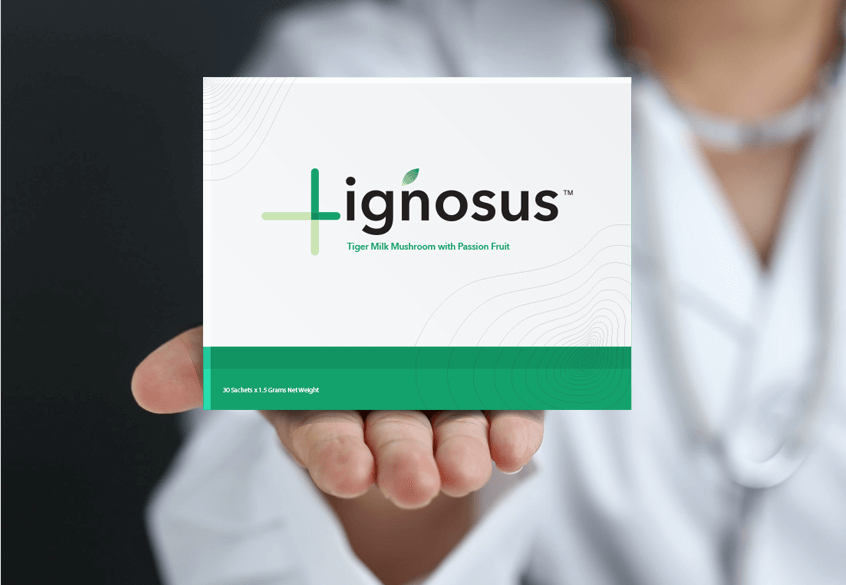 Lignosus Proprietary Cultivation Technology is an initiative mimicking the natural growth process of Tiger Milk Mushroom. The Lignosus team works tirelessly to preserve the natural therapeutic properties of Mushroom in every sachet. We guarantee that no pesticides, additives, and preservatives are added in the growing process of our cultivated tiger milk mushroom.
Lignosus Proprietary Cultivation Technology grows Tiger Milk Mushroom in 11 methodological steps. Every step is controlled, and every Lignosus product goes through extensive lab tests to ensure that we only provide safe, organic, healthy, and quality products for you. This is to guarantee that every sachet of Lignosus is produced with the highest quality in mind.