All It Took Was One Simple, Natural Solution to Get Rid of My Bronchitis & Chronic Cough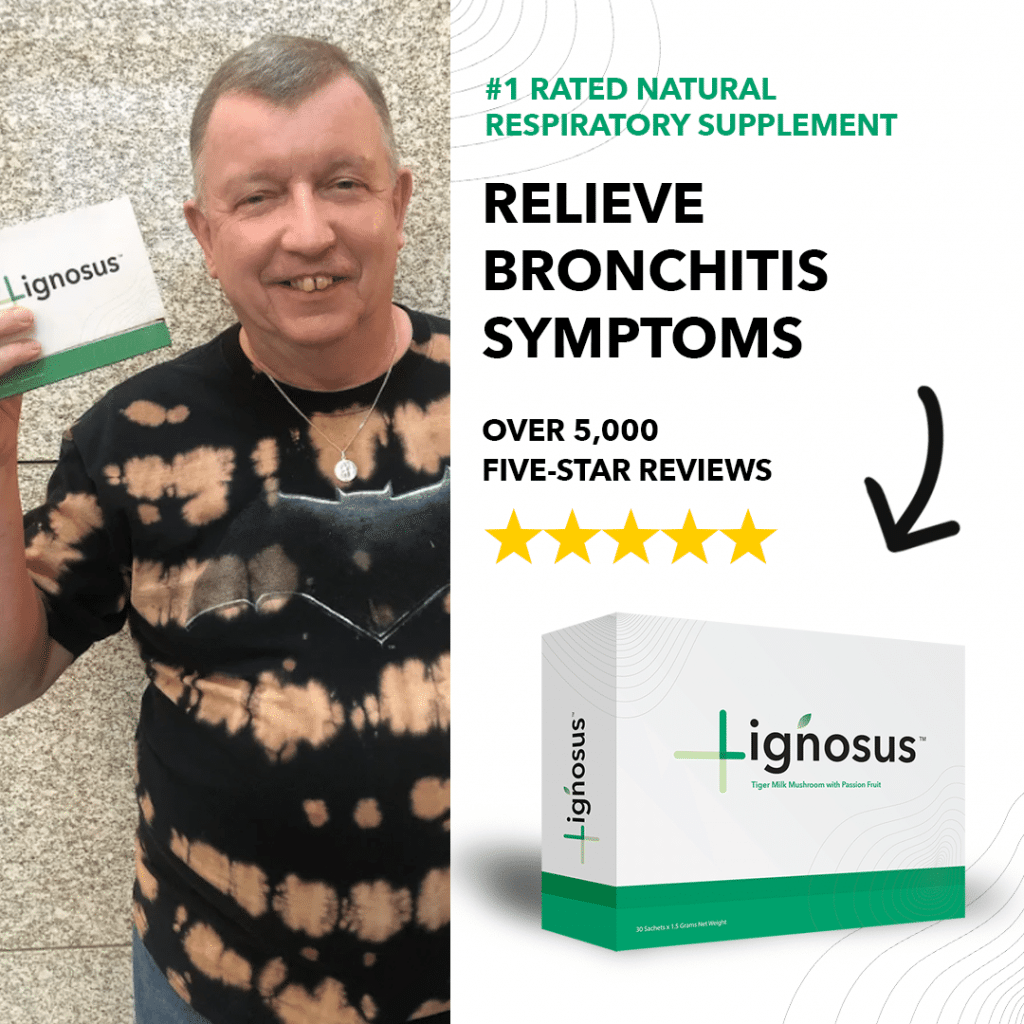 "I have not had a single episode of bronchitis since I started using Lignosus a month ago." 
Alex, Age 52, United Kingdom
Chronic bronchitis is one of the serious respiratory conditions in which the airways in the lungs, called bronchial tubes, become inflamed and cause coughing, often with mucus, and may require ongoing medication.
The most common symptom of bronchitis is coughing associated with mucus production.
Other symptoms include wheezing or shortness of breath, chest pain, or a low fever.
In an article published by the US National Library of Medicine, bronchitis was described as a common result of cigarette smoking.
In fact, 90% of people living with bronchitis smoke or used to smoke. But regardless of its cause and severity, the good news is that it can be cured!
Take for example our guy here, Alex, from the United Kingdom. Alex has been living with bronchitis and chronic cough.
Because of his condition, Alex has been taking prescribed medicines to alleviate his difficulty in breathing and the frequent coughing.
But he did not find it helpful at all and the symptoms became worse over time.
"Lignosus helped my dad breath better"
Alex's daughter discovered Lignosus online and based on the positive reviews she has read from people who tried the product, they decided to give it a shot.
After taking Lignosus for about one week, Alex started to see some improvements in his condition.
His breathing has improved, the coughing and wheezing have stopped and Alex began to see a new ray of hope in his life.
Within a month, things got even better for Alex.
He started to feel that his lungs are becoming way healthier than before.
So he decided to keep his regimen with the help of Lignosus.
"Will continue to take Lignosus to maintain optimum respiratory health."
What is Lignosus Organic Tiger Milk Mushroom?
Lignosus™ is no ordinary supplement.
It is a natural herbal supplement which supports healthy respiratory through the 100% organic hidden gem from tropical forest ⁠— Lignosus rhinocerus (Common name: Tiger Milk Mushroom).
Tiger Milk Mushroom is a medicinal mushroom that has 400 years of respiratory healing history.
It has been clinically studied to have 6 healing properties that can help to open airways, soothe respiratory inflammation, balance mucus level, and improve the respiratory process.
Lignosus™ helps to:
Support Lungs, Sinus & Bronchial Health
Relieve Cough & Phlegm
Cleanse & Detox Lungs
Improve Breathing
Defense Against Colds & Respiratory Infection
Strengthen Respiratory Immunity
Open Airways
Relieve Asthma Symptoms
Relieve Nasal Congestion
Improve Respiratory Allergies
Healthy Mucus Production
And the best part? It's 100% natural & organic!
"The fact that this is 100% organic is so encouraging because I feel better about taking it. I know that it's natural and it's safe."
And yes, Lignosus is all-natural & organic as we believe in this: Organically pure, naturally healing.
Which means there's less risk of long term health complications 🙂
This makes it safe, effective, and great for taking it for the long term!
Who needs Lignosus?
Lignosus™ works for anyone who is looking to strengthen their respiratory health and improve lung functions.
Especially, if they have the following conditions…
Asthma
Bronchitis
Sinusitis
Snoring
COPD
Fatigue
Cough & phlegm
Smoker's cough
Respiratory allergies
Weak lung function
Nasal & chest congestion